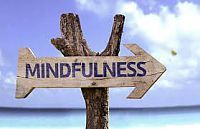 Mindful Monday Community Conversations - Mindfulness and Shambhala Art
with Tonya Veitch
Mindfulness means paying attention to the details of what we are doing, in contrast to doing things in a habitual and distracted way. Being mindful implies having awareness about how our actions unfold in the world and about how, unless we pay attention, we can be influenced by unspoken assumptions, wishful thinking, and concepts that we actually don't believe. In Shambhala, mindfulness is coupled with kindness and appreciation for humanity's inherent wisdom and compassion. Mindfulness is a tool for cutting through confusion so that our basic goodness can fully blossom.
In this series, on the third Monday of each month, we will practice meditation 7:00-7:30 PM, and engage in a conversation about mindfulness applied to different areas of our life and society, from 7:30-8:30. Each session will have a facilitator, but is meant as a time for us to share and contemplate the theme together.
Monday, April 20 - Mindfulness and Shambhala Art

Art is popularly seen as an expression of the artist to an audience. Many artists aspire to fame and recognition. Shambhala Art aspires to recognizing and appreciating true form and energy. Mindfulness is key to this recognition and appreciation and is the only skill needed for art. For this conversation, Tonya Veitch will give a short presentation of the principle of Shambhala Art, which will lead into a general discussion of the mindfulness needed, acquired, and honed in the creative process of art.