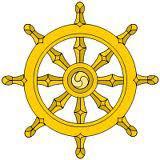 First Monday Dharma Talk: The Four Dignities of Shambhala
with Shastri Janet Bronstein
The Buddhist teachings represent the collected insights and observations of meditators around the world and across the centuries. The Shambhala teachings represent the experiences of individuals who have participated in societies based on kindness, non-aggression, and appreciation of the natural world.
For six First Mondays beginning March 3, the talks will introduce ideas explored in the Tiger of Contentment class on alternate Wednesday nights beginning March 11. This month's topic:

Shambhala is an approach to placing the teachings of meditation and Buddhism in a cultural context that supports human dignity, kindness and connection to the natural world. In these early years of introducing meditation and Buddhism to the West, Shambhala taps imagery and concepts native to traditional Tibet. These include the symbols of the orange tiger, the white snow lion, the red garuda and a blue dragon. This talk will describe these 4 images of dignity, and introduce our upcoming Tiger of Contentment course.
No charge, donations welcome.
Schedule:
Meditation practice 7:00-7:25 (instruction available)
Dharma talk and discussion 7:35-8:30
Please visit Shambhala-Talks-Online to listen to recordings of past First Monday Dharma talks.