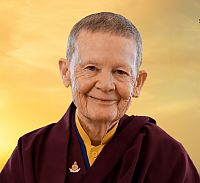 Igniting the Heart: Awakening Compassion to Transform Your World
with Pema Chödron & Tim Olmsted
This course is offered on Zoom for thirteen Sunday nights at 6:30, beginning August 1, through our Huntsville satellite group. We will provide access to the videos and readings if you need to miss one of the Sunday night classes.
Our emotions color how we see and experience the world. An angry mind sees an angry world. A fearful mind sees a threatening world. But when mind is stable, we see a world that is open, fluid, workable, moveable.
Using the Buddhist teachings on the six realms of existence as a framework, Pema Chödrön teaches that our common psychological states of anger, craving, ignorance, dissatisfaction, jealousy, and obliviousness are an unavoidable part of being human. While the strong emotions associated with the realms can be overwhelming, learning to work with them skillfully can open the door to true freedom.
This course will help you:
Work with the familiar ways we imprison ourselves every day, the psychological states of mind that in Buddhism are known as the six realms
Recognize when you're caught in a realm, such as feeling that everyone's against you or feeling not-enough or just trying to get by or longing for more or feeling insecure or being oblivious
Develop stability for bringing meditative awareness to those psychological states of mind that imprison you
Transform your experience of the six realms of existence into pure realms, where you experience life but are not trapped by it
Discover the freedom that's always present in every moment, everywhere
Each lesson begins with a video talk by Pema Chödrön or Tim Olmsted and presents a practice and a contemplation related to the teachings for that week, which are designed to help you integrate the course material into your own life and experiences.
After registering, you will receive further details about the 13-week content as well as a suggested reading list. You can receive a 50% discount on the titles published by Shambhala Publications with a code provided upon registration.
Generosity Policy applies: The Birmingham Shambhala Center does not wish restricted finances ever to interfere with one's ability to receive the teachings.
If paying the full price presents an obstacle to your participation, please use the "Pay what you can" option for registering, filling in the box with the price you are paying. You can pay online with PayPal or a credit/debit card.
If you need to arrange a payment plan, please make arrangements prior to the program by contacting Nick Buckner at [email protected]