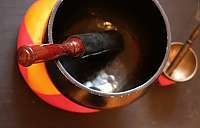 Learn to Meditate
with Marion Buckley
We are very pleased to announce that we are resuming our bimonthly Learn to Meditate class in the Center.
In this introductory class you will receive the technique, guidance, and experience necessary to start a mindfulness-awareness or "peaceful abiding" meditation practice. Your teacher will give you detailed instruction and guided meditation so that you have the tools for a daily practice.
We will practice together and have time for discussion and questions. Ideal for beginners or students wanting to refresh their meditation technique.
Included in the price of the program will be a follow-up session next month to explore your experience with meditation practice and address any of the myriad difficulties which come up for meditators.
Generosity Policy applies: The Birmingham Shambhala Center does not wish restricted finances ever to interfere with one's ability to receive the teachings.
If paying the full price presents an obstacle to your participation, please use the "Pay what you can" option for registering, filling in the box with the price you are paying. You can pay online with PayPal or a credit/debit card, or pay the amount at the door.
If you need to arrange a payment plan, please make arrangements prior to the program by contacting Christine Dietsch at [email protected] or 205-239-9648.
For those who can offer more than the program price, we have a "patron price". Your generosity in offering the patron price helps cover the costs for others who are not able to pay the full price.
.