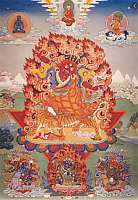 Parinirvana of Chögyam Trungpa Rinpoche
Each year on April 4th, the Shambhala community marks the life and passing of its founder, the Vidyadhara, the Venerable Chögyam Trungpa Rinpoche, with the commemoration of Parinirvana Day. As we approach the anniversary of Trungpa Rinpoche's death in these extraordinary times, the impact he has on our lives feels particularly present. It is traditional to practice The Sadhana of Mahamudra, one of Trungpa Rinpoche's seminal works, on this day. This sadhana describes the dark age of materialism, how we can look directly at the vividness of that experience, and how we can supplicate the wisdom of the lineage to support us.
Here in Birmingham, we will have a two-part event on Sunday, April 4, beginning at 2 pm. A small number of people (6 to 7) can meet in the shrine room; everybody can participate online.
Part 1: 2-3 pm. Shambhala Online Sunday Gathering recording of Lady Diana Mukpo for a special Shambhala Sunday, in which she will share reflections, stories, and insights about the remarkable life of Chögyam Trungpa Rinpoche.
For participants in the shrine room, this presentation will be viewed live through Shambhala Online.
Because live stream cannot be simultaneously shared through Zoom, participants at home will be asked to view it on their own, also beginning at 2 pm.
Part 2: 3-4 pm. Practice of the Sadhana of Mahamudra will begin about 3 pm as a hybrid in-person and Zoom event. The text will be screen shared. It lasts about one hour. Participants are strongly encouraged to be present for the full time. Here is the Zoom link.
The Sadhana of Mahamudra is considered one of Venerable Chögyam Trungpa Rinpoche's most important and enduring legacies. As a practice liturgy it is a powerful way to engage with the highest teachings of the Kagyu and Nyingma lineages. It flowed into Chögyam Trungpa Rinpoche's mind was written down and translated when he was on retreat in 1968 at the Taktsang Monastery in Bhutan. It is a response to the degeneration of Buddhism in the Tibetan culture but could equally be applied to today's spiritual situation. To quote from the introduction to the Sadhana: "If the buddhas of the three times and the great teachers were to comment, they would surely express their disappointment. So to enable individuals to ask for their help and to renew spiritual strength, I have written this Sadhana of Mahamudra."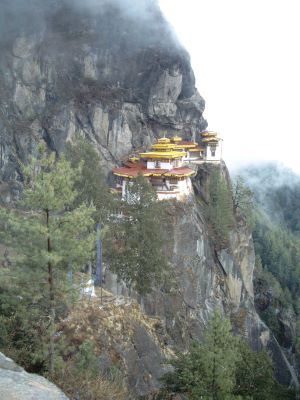 Taktsang Monastery in Bhutan
Please join us for this auspicious celebration!
If you want to participate live in the shrine room, please register below. The first five registrations will be accepted, leaving room for the umdze and the technology staff. Registrations above 5 will be placed on a waiting list and notified if space becomes available.