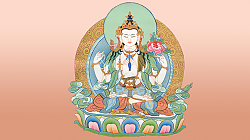 The Bodhisattva Path of Wisdom and Compassion (Huntsville)
with Judy Lief
The Huntsville Group will be presenting Judith Lief's talks on The Bodhisattva Path of Wisdom and Compassion, The Mahayana Teachings of Chögyam Trungpa. This is a series of several talks along with reading assignments from Vol 2 of the Profound Treasury of the Ocean of Dharma. These talks follow the foundational materials of the hinayana path. The class is open to everyone and will start on Sunday, December 13th at 10am via Zoom. A discussion facilitated by Bill Elliott will follow each video presentation from Judith Lief.
Once the essential foundation of the hinayana teachings has been laid, the next step begins with opening the focus of practice to include the world beyond oneself. This personal paradigm shift is the gate to the mahayana teachings, which will be presented systematically in Part Two of the Profound Treasury course. The mahayana begins with the perception of shunyata, the essential emptiness of all phenomena, and with the compassion that naturally arises from that understanding.

Judy Lief is a Buddhist teacher and editor of The Profound Treasury of the Ocean of Dharma. This online course explores the second volume of this monumental work The Bodhisattva Path of Wisdom and Compassion. Through video recorded during a nine-day retreat she led on the subject, Lief will guide us through the traditional mahayana teachings as taught by Chögyam Trungpa, the Tibetan Buddhist master who was largely responsible for making these teachings accessible and relevant for a Western audience.