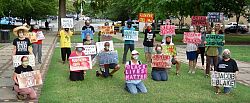 Community Conversation on Zoom: White Birminghamians for Black Lives
with Judy Hand-Truitt
Join us via Zoom for a talk with Judy Hand-Truitt of White Birminghamians for Black Lives, on Wednesday, October 7th, at 7 p.m
White Birminghamians for Black Lives is a monthly gathering that takes place on fourth Fridays in Birmingham to bear witness to the truth that Black Lives Matter. The gatherings are held in a spirit of solidarity with the local Black Lives Matter movement and in support of their work. Judy will discuss what the organization is, its message, and its mission, and answer any questions.
For more information about the organization and their activities, visit their Facebook page:
https://www.facebook.com/whitebirminghamiansforblacklives
To join the talk, please use this Zoom link.