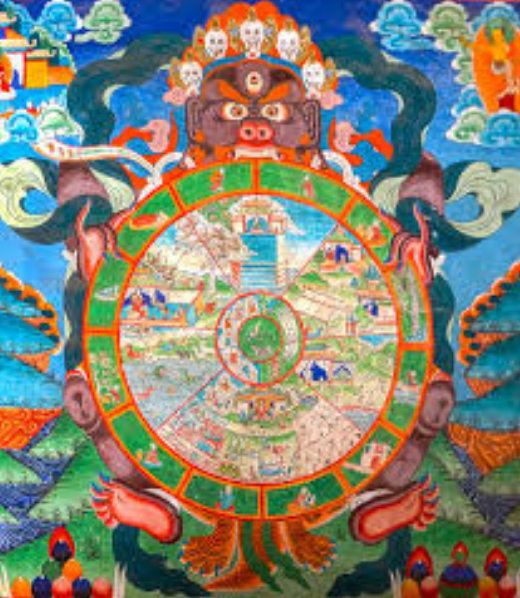 Foundations for Freedom: The Hinayana Course III - The Second Noble Truth: The Origins of Suffering, Part II - The Wheel of Life, Karma and the Twelve Nidanas
with Acharya Judith Simmer-Brown & Loden Nyima
The Birmingham Shambhala Center is excited to present the third in a series of five courses from Shambhala Online exploring the profundity of the Hinayana teachings of the Buddha.
The foundational teachings of the Buddha indicate that the suffering we experience in our lives can come to cessation if we recognize, deeply and profoundly, how that suffering has arisen. This requires gentle bravery and deep contemplation, bypassing simplistic notions of how our suffering has arisen. The Buddha provided powerful models for this contemplation through the interrelated teachings of karma and kleśa, or destructive emotions, as exemplified in the Wheel of Life. Drawing from the contemporary insights of our Shambhala Buddhist lineage, we will tread the ancient path of the Buddha.
Class 1: (Live Zoom session on Sunday, September 6 at 12 noon Central) Introduction to the Second Noble Truth and Mindfulness of Life, with Loden Nyima and Acharya Judith Simmer-Brown
Class 2: Kunjung of Klesa and Karma, with Loden Nyima and Acharya Judith Simmer-Brown
Class 3: Wheel of Life and the Six Realms, with Loden Nyima
Class 4: Twelve Nidanas: Cause (1-2) and Result (3-7), with Acharya Judith Simmer-Brown
Class 5: Twelve Nidanas: Present Lifetime (8-10) and Future Lifetime (11-12), with Acharya Judith Simmer-Brown
Class 6: The Long View: Karma and Lifetimes and Cosmology, with Loden Nyima
Class 7: (Live session Sunday October 25) Discussion Groups.
The Shambhala Online Zoom link for the first and last classes will be provided for individual participation.
Recordings of Classes 2 through 6 will be presented by our Center through Zoom in the weeks from September 13 through October 25, with each class offered twice: on Sunday evening from 6 – 8 pm, and again on Tuesday evening from 6 – 8 pm. Each class will consist of viewing the recording and having local discussion. We will have our own review and discussion on October 18 prior to the last Q&A with the teachers.
Schedule of class presentations:
September 6 – Class 1 (live from Shambhala Online at noon)
September 13 and 15 – Class 2
September 20 and 22 – Class 3
September 27 and 29 – Class 4
October 4 and 6 – Class 5
October 11 and 13 – Class 6
October 18 and 20 – our own review and contemplations
October 25– Class 7 (live from Shambhala Online at noon)
Participants will have access to the recordings to watch on their own if they miss a session, or they may attend the alternate session (Sunday or Tuesday) for the week.
Acharya Judith Simmer-Brown has just retired as Distinguished Professor of Contemplative and Religious Studies at Naropa University in Boulder, Colorado, where she was a Founding Faculty member. She is an Acharya in the Shambhala lineage, and was Director of Shambhala's Ngedon School for Higher Learning for many years. She is the author of Dakini's Warm Breath: The Feminine Principle in Tibetan Buddhism and Meditation and the Classroom: Contemplative Pedagogy for Religious Studies.
Gelong Loden Nyima is a fully ordained Buddhist monk. He lived at Gampo Abbey from 2009 – 2017 where he completed shedra studies, practiced intensively, and served in various roles including as Shastri. He now lives and teaches at Shambhala Mountain Center, and spends a portion of each year in retreat.
Generosity Policy applies: The Birmingham Shambhala Center does not wish restricted finances ever to interfere with one's ability to receive the teachings. If you need to arrange a payment plan or negotiate a reduced tuition, please make arrangements prior to the program by contacting Nick Buckner at [email protected]. Alternatively, select the "Pay what you can" option and register and pay online.
For those who can offer more than the program price, we have a "patron price". Your generosity in offering the patron price helps cover the costs for others who are not able to pay the full price.