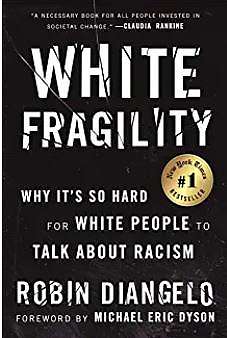 White Awareness Discussion Group - ONLINE
with Loraine Locke
This new discussion group is based on the book "White Fragility" by Robin DiAngelo. The book explores the counterproductive reactions white people tend to have when their assumptions about race are challenged, and how these reactions maintain racial inequality.

"White Fragility" allows us to understand racism as a systemic practice, not something done solely by 'bad people'. Referring to the common defensive moves white people make when challenged racially, white fragility is characterized by emotions such as anger, fear, and guilt, and by behaviors including argumentation and silence. These behaviors, in turn, function to reinstate white racial equilibrium and prevent any meaningful cross-racial dialogue. In this in-depth exploration, DiAngelo examines how white fragility develops, how it protects racial inequality, and what we can do to engage more constructively.
Participation is limited to 12 registrants.
A copy of "White Fragility" will be needed. There will be reading assignments and some self-reflection between sessions.
The White Awareness Discussion Group meets on the 3rd Sunday of each month from 6:30-8:30 p.m. starting Aug 16. The Zoom link will be provided to registrants.