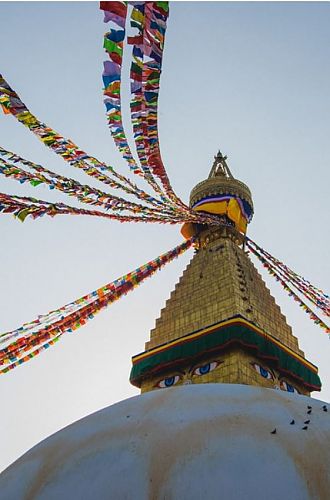 Foundations for Freedom: The Hinayana Course II - The Second Noble Truth: The Origins of Suffering, Part I - The 5 Skandhas
with John Rockwell & Acharya Dale Asrael
The Birmingham Shambhala Center is excited to present the second in a series of five courses from Shambhala Online exploring the profundity of the Hinayana teachings of the Buddha.
Having recognized the truth of suffering and the confusion that is pervasive in our life, we naturally have questions. How does this state of suffering arise? Where does confusion come from? Our innate intelligence begins to explore the subtle layers of experience, going deeper and deeper until we come to the heart of our being. In this in-depth exploration of the Five Skandhas, we will touch these layers or constellations of experience one by one, starting from the unconditioned, innate ground of open space, and see how we fabricate our own world of projections.
The course consists of seven classes:
Class 1: (Live Zoom session on June 14 at 12 noon): Introduction to the second noble truth and how it relates to the five skandhas
Class 2: Skandha of Form, with Acharya Rockwell
Class 3: Skandha of Feeling, with Acharya Asrael
Class 4: Skandha of Perception, with Acharya Rockwell
Class 5: Skandha of Conceptual Formations, with Acharya Asrael
Class 6: Skandha of Consciousness, with Acharya Rockwell
Class 7: (Live Zoom session on August 23): Discussion on Zoom with both teachers
The Shambhala Online Zoom link for the first and last classes will be provided for individual participation.
Recordings of Classes 2 through 6 will be presented by our Center through Zoom in the weeks from June through August, with each class offered twice: on Sunday evening from 6 – 8 pm, and again on Tuesday evening from 6 – 8 pm. Each class will consist of viewing the recording and having local discussion. There will be two off weeks with no class.
Schedule of class presentations:
June 14 (live from Shambhala Online at noon) – Class 1 (replay of the recording on Tuesday)
June 21 and 23 – Class 2
June 28 and 30 – Class 3
July 5 and 7 – open week
July 12 and 14 – Class 4
July 19 and 21 – Class 5
July 26 and 28 – our own review and discussion including the readings
August 2 and 4 – Class 6
August 9 and 11 – open week
August 16 and 18 – our own review and contemplations
August 23 – Class 7 (live from Shambhala Online at noon)
Participants will have access to the recordings to watch on their own if they miss a session, or they may attend the alternate session (Sunday or Tuesday) for the week.
Generosity Policy applies: The Birmingham Shambhala Center does not wish restricted finances ever to interfere with one's ability to receive the teachings. If you need to arrange a payment plan or negotiate a reduced tuition, please make arrangements prior to the program by contacting Nick Buckner at [email protected]. Alternatively, select the "Pay what you can" option and register and pay online.
For those who can offer more than the program price, we have a "patron price". Your generosity in offering the patron price helps cover the costs for others who are not able to pay the full price.