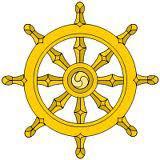 First Monday Dharma Talk: Why Start with the Truth of Suffering?
with Shastri Janet Bronstein
THIS FIRST MONDAY NIGHT TALK IS ONLY AVAILABLE ONLINE. Please enter using the Zoom link.
The Buddhist teachings represent the collected insights and observations of meditators around the world and across the centuries. The Shambhala teachings represent the experiences of individuals who have participated in societies based on kindness, non-aggression, and appreciation of the natural world.
For six First Mondays beginning March 3, the talks will introduce ideas explored in the Tiger of Contentment class on alternate Wednesday nights beginning March 11. This month's topic:
The Buddhist tradition includes extensive exploration of our feelings of dis-ease, discontent and suffering. From some perspectives this is a depressing approach to life, but the value of noticing these feelings in an atmosphere of kindness to ourselves allows us to identify the root cause of suffering, and the ways we unintentionally make ourselves miserable. Through understanding the cause, we identify the keys to experiencing cessation of suffering, which could also be called contentment.
No charge, donations welcome.
Schedule:
Meditation practice 7:00-7:25 (instruction available)
Dharma talk and discussion 7:35-8:30
Please visit Shambhala-Talks-Online to listen to recordings of past First Monday Dharma talks.