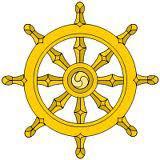 First Monday Dharma Talk: Meditation and Emotional Resilience
with Marion Buckley
The Buddhist teachings represent the collected insights and observations of meditators around the world and across the centuries. The Shambhala teachings represent the experiences of individuals who have participated in societies based on kindness, non-aggression, and appreciation of the natural world.
For six First Mondays beginning March 3, the talks will introduce ideas explored in the Tiger of Contentment class on alternate Wednesday nights beginning March 11. This month's topic:
It is tempting to think of meditation practice as a way to calm ourselves down so that we experience fewer disturbing emotions. But being mindful of our states of mind actually implies becoming more aware of the entire range of our emotions. We respect our responses to the world, while learning not to necessarily believe all of the stories we tell ourselves about what is happening. Learning that we can experience emotional ups and downs with a sense of perspective builds resilience that supports us as we face life's challenges.
No charge, donations welcome.
Schedule:
Meditation practice 7:00-7:25 (instruction available)
Dharma talk and discussion 7:35-8:30
Please visit Shambhala-Talks-Online to listen to recordings of past First Monday Dharma talks.