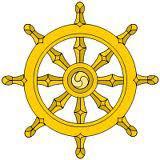 First Monday Dharma Talk: Does Compassion Really Come Naturally?
with Marion Buckley
The Buddhist teachings represent the collected insights and observations of meditators around the world and across the centuries. The Shambhala teachings represent the experiences of individuals who have participated in societies based on kindness, non-aggression, and appreciation of the natural world.
For six First Mondays beginning March 3, the talks will introduce ideas explored in the Tiger of Contentment class on alternate Wednesday nights beginning March 11. This month's topic:
The Buddhist view of the human mind is that it naturally contains both clarity and compassion. If this is the case, why do the experiences of both clarity and compassion seem so rare? We can think of clarity and compassion either as seeds which can be cultivated with practice and intelligence so that they bloom, or as our inner nature, which practice and intelligence uncovers. Either way, aligning ourselves with clarity and compassion improves our lives and the lives of others with whom we interact. No charge, donations welcome.
Schedule:
Meditation practice 7:00-7:25 (instruction available)
Dharma talk and discussion 7:35-8:30
Please visit Shambhala-Talks-Online to listen to recordings of past First Monday Dharma talks.