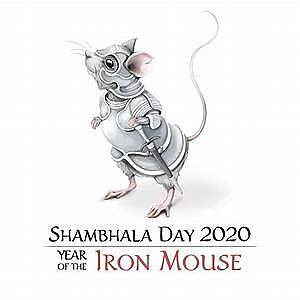 Shambhala Day Community Celebration 2020
Start a New Year - the Year of the Iron Mouse! This Saturday celebration is a larger celebration compared to the earlier Monday celebration on actual Shambhala Day / Losar.
Many fun events planned! Being in community in a heartfelt way is very important in Shambhala this year.

Probable schedule (we hope to be done by 2 pm):
10:00 am

- Elixir of Life (a New Year and Birthday Practice)


11:00 am

-

Annual Shambhala address from leadership of Shambhala to the worldwide sangha

LUNCH! Center provides meat e

ntre

é; you bring potluck sides


Quick fundraising for Shambhala International

Annual report of center activities and finances


Membership and volunteer announcements and presentation of membership pins

Handout of draft sustainability plan

Vows of outgoing and incoming Center Directors

I Ching casting for the Iron Mouse year