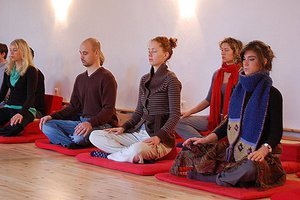 Young Adult Group (20's and 30's)
One aspect of entering adulthood is dealing with a degree of unsettledness, uncertainty, apprehension, worry, and, in our modern world, speed. The Young Adult Group is intended to create a space where young adults can practice contentment and wisdom in dealing with life's vicissitudes. Therefore, the purpose of this group is to help each other relax into reality through practicing awareness and gentleness by drawing on the practices of various wisdom traditions and celebration. We hope to cultivate a vibrant, intelligent, and heartfelt group of young adults who are satisfied with life and hold the purpose of creating a sane society.
We will begin with mindfulness meditation (instruction available) from 7:00pm-8:00pm, followed by a discussion about the group, its purpose, and upcoming activities. Then we will engage in whatever activity we have planned, ranging from various contemplative practices, movies, mindful eating and drinking, book groups, to discussions.
This group meets weekly on Tuesday evenings.
For more information, please contact
Kyle Strickland
Nicole Rossi